Thanks to everyone who has been joining in the
Bloggers' Dinner Party
! It has been fun seeing your creations. The party is open until the 28th so you have 10 more days to join in this month's party - and you'll have a chance to
win a pattern and some fun fabric from my stash
! You can link up over at the
Bloggers' Dinner Party page
.
In case you are looking for inspiration, I wanted to share a roundup of fun table runner techniques and ideas. I have actually never made a table runner, since our current dining table is too narrow to fit a runner and leave any room to actually eat. Looking at all these great tutorials made me really want to make one, though! I'm thinking maybe I should just go ahead and make one, I can always use it on a coffee table or a side board in the future if we continue to have too small a table after we move.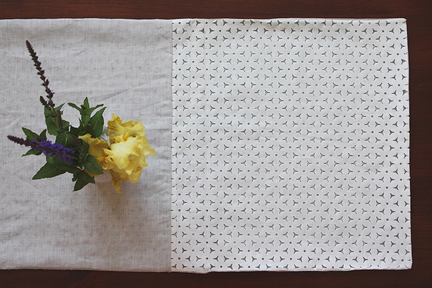 Photo from The Long Thread
The simplest way to make a table runner is to sew two rectangles together with right sides facing, leaving a gap for turning the runner right side out, and then either hand stitch the opening closed or top stitch all the way around, closing the opening in the process. The
beautiful simple runner above from The Long Thread
is an example of this technique, showing how with even minimal piecing you can get a very pleasing result.
Photo from Poppyprint
You can also use this technique with a more complicated top, such as the lovely
crop circles pattern from Poppyprint
above, or the
beautiful log cabin runner
that Amanda Soule made. With this technique you can use batting in the middle and quilt as much as desired, or you can just use the two pieces of fabric.
Photo from A Sewing Journal
Another simple technique for a non-quilted runner is to simply use a single rectangle of fabric and turn the edges under and finish them, similar to how you would when
making a napkin
. You can of course embellish the fabric with applique, contrasting fabric bands, stenciling/stamping or other decorations, just as you can with napkins. The
linen and lace runner above from A Sewing Journal
is a sweet example using this technique.
Photo from Prudent Baby
You can also make a quilted table runner with binding, which is essentially a mini-quilt. If you use extra layers of batting or insulated batting, this has the added benefit of protecting your table from hot dishes. At the most simple, you can pick two favorite fabrics, quilt them together and sew on a binding, as in
this tutorial from Prudent Baby
shown above.
Photo from Diary of a Quilter
You can also make a striped table runner using this technique pretty easily, such as the
quilt as you go table runner from Diary of a Quilter
shown above. Similarly, the Polka Dot Chair has a
tutorial for a skinny table runner made from squares
.
Photo from Spool Sewing
You can also use this technique to make a runner with many kinds of more complicated quilt designs, such as the
disappearing nine patch design from Spool Sewing
shown above. Other tutorials to check out include:
Photo from Martha Stewart Crafts
And your table runner doesn't have to be a rectangle! I love this
pattern for a leafy runner
made of bias-tape edged leaf shapes from Martha Stewart Crafts. Or there's a cute pattern on Moda Bake shop for a
runner made of layered circles
.
What is your favorite table runner pattern or technique?